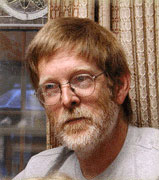 Gerry Newcomb works with kiln cast glass, forming large architectural panels, wall murals, sculptures, light fixtures and tables. These pieces invite people to explore them from many perspectives, with both their eyes and their hands. They play with light to produce colors and shapes and they speak to the forms around us.
Gerry first started working in clay in his late teens. Over time he developed the processes and skills to translate clay forms into cast glass. In his current work, clay is used as an initial model material to form a slab with relief and texture. After pulling a mold from the clay, these open face molds are used to cast the glass. Color is sifted, brushed, painted or laid in the mold and clear glass fills in the rest of the mold. The resulting glass piece has one side in high relief. The other side is flat, glossy and transparent, allowing a person to view the relief through the glass. Each side presents a different way to view the piece and each reveals as well as hides elements.
His glass work revolves around structures and textures. These can take the form of architecturally formatted house forms or glass relief drawings on large panels. The pieces incorporate graphic and/or natural elements. Line and color are balanced in a way that is controlled, but also allows for the fluidity of the hot glass to be a part of the end result. He has found ways to place colored forms and shapes inside the glass. At other times he will make a sketch on a piece of glass and incorporate that inside another piece of glass. Some pieces, most specifically wall murals, are mirror coated so they can be lit by reflected light while hanging on a wall.
Gerry's studio work consists of a mix of his own art work and public and private commissions. Gerry also has taught workshops in kiln-cast glass in Seattle, Portland, Los Angeles, and at the Corning Museum Studio. Gerry divides his time between a studio in Seattle and a studio on Lopez Island, Washington.